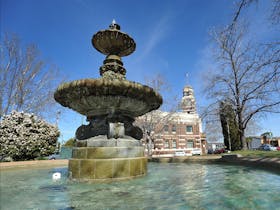 Historical Sites and Heritage Locations, Parks and Gardens
Map Address
Book Today
Visit Website
Enquiry
Royal Doulton Hankinson Memorial Fountain
Corner of East Street and Victoria Square, Narrandera 2700
Ph: 0269595545
The Hankinson Memorial Fountain is a ceramic fountain created by Royal Doulton. It is located in Narrandera within the Memorial Gardens East Street and Victoria Avenue. There are only two of these fountains known to be in existence, the other one being in Pakistan.
The ceramic Royal Doulton fountain was presented to the people of Narrandera by Ald RH and Mrs Hankinson in 1922 "in honour of all those in Narrandera and District who served in the Great War 1914-1918." The fountain remains a fitting tribute to Mr Hankinson who stands in local history as one of the area's most civic minded citizens.
Due to current health advice on social distancing, please contact the business for the most up to date information regarding opening times and services.