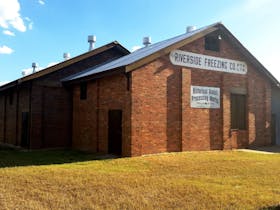 Galleries Museums and Collections, Landmarks and Buildings
Map Address
Book Today
Visit Website
Enquiry
Texas Rabbit Works
Mingoola Road, Texas 4385
Ph: 0448762016
The historic Texas Rabbit Works, which includes the Riverside Freezing Works, brings to life a very important era in the history of Texas and Australia. During the 1930s the Texas Rabbit Works employed 30 men and exported three tons of rabbit meat a week to England. The industry was credited with saving the Queensland town during the depression years. The works closed in 1992. The rabbit industry in 1929 was the largest employer in Australia.
When you think of what makes the wheels of the Australian economy turn today, most people think of mining and, historically, of agriculture. But in the 1930s the rabbit industry was at the top. At its peak, there were about 15 rabbit processing centres in Australia. If they each matched the exports of the Texas Rabbit Works, which in today's terms would be about AUD$200 million, then the rabbit industry was worth AUD$10 billion.
In a period where the economy suffered, workers of all trades found they could earn more money through trapping rabbits rather than pursuing their usual occupations. Entire families would 'rabbit' together, regularly earning up to the equivalent of AUD$900 a week.