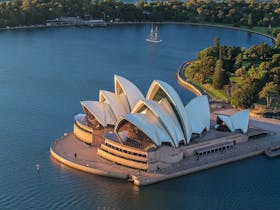 Entertainment Venues, Historical Sites and Heritage Locations, Landmarks and Buildings
Map Address
Book Today
Visit Website
Enquiry
Sydney Opera House
Bennelong Point, Sydney 2000
Ph: 0292507111 / 0292507250
Whether you're a local or a visitor, a first-timer or an aficionado, the Sydney Opera House has something for you.
One of the most iconic buildings in the world – the Sydney Opera House, is an architectural masterpiece and vibrant performance space. It's a place where the past shapes the future, where conventions are challenged, and cultures are celebrated. Step inside and discover the stories that make the Opera House so inspiring.
Where the Opera House sits, Bennelong Point has been a place for feasting and celebrating for millennia. So it's only natural that here at the Opera House, the entertainment jumps from the stage and onto the plate. Whether you're after a show-stopper meal at Bennelong, pre-theatre dining at Portside, a long lunch with a view at Opera Bar, drinks with mates or grabbing a bite on the go at Opera Kitchen, they've got Sydney's finest foods, drinks plus the best views in town.