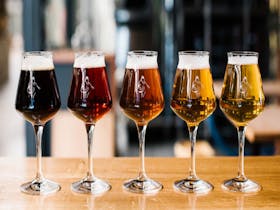 Exhibition and Shows, Festivals and Celebrations, Food and Wine
Map Address
Book Today
Visit Website
Enquiry
Electro Beer Garden
Start date: 12 Jul 2018 / End date: 13 Jul 2018
CircularQuay, Sydney 2000
Ph: 0406473708
Frenchies Bistro Beers and Electro Swing Music. The Afterwork Combo. The Electro Beer Garden of the Bastille Festival Sydney will be the key location for premium craft beer lovers.
With the huge popularity of the 2017 Electro Beer Garden, they've decided to set up an even bigger one with some good Electro lounge music in the middle of the event. They will be showcasing the very best in French Craft Beer at the iconic Circular Quay Sydney.
For Sydney craft beer lovers who travel around the world, sampling the food and drink from a new destination is one of the best ways to immerse yourself in another culture. Sydneysiders will be able to visit French breweries without the air ticket and taste a variety of local craft beers on the Bastille Festival Craft Beer Bar menu.