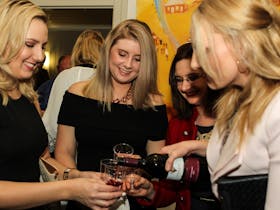 Festivals and Celebrations, Food and Wine, Event Markets
Map Address
Book Today
Visit Website
Enquiry
Heartland Festival North Burnett 2018
Start date: 13 Jul 2018 / End date: 14 Jul 2018
Queen Street, Gayndah 4625
Ph: 0427755850
Heartland Festival is a weekend that showcases all things made, grown and produced in the North Burnett.
'It's All About The Food' at the Gayndah Art Gallery on Friday night when the opening night of the Gallery's Biannual Art Competition combines with the launch of Heartland Festival. Tickets: AUD25.
The annual Market Day gets more mouth-watering each year. There will be plenty to see, touch, taste and take home as you make your way through the rows of stalls at the Gayndah State School Oval on Saturday from 9am to 3pm. Entry: Gold coin donation.
Continue the Heartland experience Saturday evening at The Old Tin Shed. Discover food vans, the Silo Bar and live entertainment under the old tin shed and twinkling lights. Tickets: AUD25.
Sunday morning depart on the Fruit to Flowers Bus Tour that takes in farm tours and a delicious brunch. Tickets: AUD65.
Alternatively, have a family day out full of traditional fun and local produce at the Gayndah Heritage Railway Family Picnic. Tickets: AUD60 per family of four.
The final event will be held behind the Gayndah Art Gallery on Sunday where Kelly Voss will showcase fresh food. Tickets: AUD55.