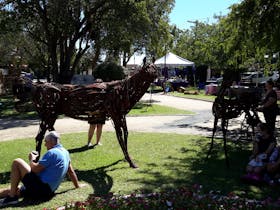 Community Event, Festivals and Celebrations, Event Markets
Map Address
Book Today
Visit Website
Enquiry
Deni Fest
Start date: 1 Apr 2021 / End date: 5 Apr 2021
Various, Deniliquin 2710
Ph: 1800650712 / 0358983120
They love welcoming visitors to their region. However, in an effort to combat the COVID-19 pandemic, the Federal Government is advising Australians to stay home and only travel when it's absolutely necessary.
To ensure they abide by the new restrictions, and to keep the community safe, they have cancelled this years Denifest. Take care, and they look forward to welcoming you back to Deni as soon as it's safe to do so.
Deni Fest is an annual event held over Easter. It encompasses all the well-loved arts and cultural activities happening in Deniliquin, including the Rotary Easter Art Show, the ArtOut and VintageOut Artisan Market, APRA Championship Rodeo, and Lions Club Community Market.
The popular Peppin Gallery will be open all weekend with an exhibition featuring local artists. Performances from Deniliquin Bush Poets Society in the park and live music in various pubs and venues around town.
Specific events for kids include a free concert in the park, Kids for Kids Fun Day, and an Easter egg hunt in the park.
Deni Fest encourages locals and visitors to get out and enjoy arts and culture. It highlights why Deniliquin is such a great place to visit at Easter.
Event dates for next 12 Months: 1 Apr 2021 | 2 Apr 2021 | 3 Apr 2021 | 4 Apr 2021 | 5 Apr 2021