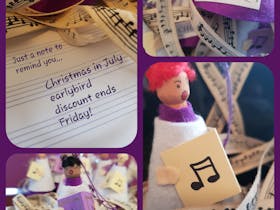 Community Event, Concert or Performance, Festivals and Celebrations, Food and Wine
Map Address
Book Today
Visit Website
Enquiry
Christmas in July with the Choristers of St Andrew's Cathedral
Start date: 28 Jul 2018 / End date: 29 Jul 2018
Corner Bathurst and George Steets, Sydney 2000
Ph: 0411711351
The world-famous St Andrew's Cathedral Choir of boys and men has been bringing joyful music to Sydneysiders and visitors since 1819.
With Winter providing a more appropriate setting for some of the best loved carols, Christmas in July will be a real treat – especially for those summer visitors to Sydney who miss out on experiencing beautiful Christmas music in this stunning sandstone heritage building.
Starting at 6pm, the concert of seasonal music features a glass of mulled wine, soaring descants and glorious anthems in Australia's oldest Cathedral – the Blacket-designed Cathedral Church of St Andrew. Then, moving to the Heath Centre in the adjacent St Andrew's Cathedral School (the chorister's CBD high-rise school opposite the Cathedral) , a delicious three-course Christmas dinner with all the trimmings will be enjoyed, Festive Trivia will be played, and the choristers will return to sing more carols – requests taken – to accompany dessert.
There will even be delightful hand-crafted "chorister" ornaments, delicious gingerbread angels and CDs available.