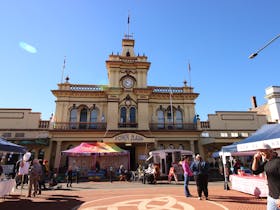 Community Event, Exhibition and Shows, Festivals and Celebrations
Map Address
Book Today
Visit Website
Enquiry
Chill N Glen
Start date: 22 Jul 2018 / End date: 23 Jul 2018
Grey Street, Glen Innes 2370
Ph: / 0408564661
Come and join them in the Glen Innes Highlands to celebrate the wonder of winter. A two day event, Saturday in the Main street and Sunday in the community.
Saturday, July 21 is a Main Street Fair with Ice Skating and loads of terrific activities and games for the children, food from around the globe with Aussie Smoked Barbecue, German pretzel, Turkish Gazleme, American Hot Dogs, Donuts, Belgium Waffles, Dutch Pancakes, Churros.
They have over 50 market stalls that either make it, bake it, sew it, grow it or are unique. The region is on show with their boutique producers gourmet fair, the artisans with craft and art exhibitions and the rev heads with vintage cars and hot rods. Guided history tours of the magnificent main street, fashion parades, musical and dance performances and some street entertainment. Saturday night is filled with movies, blue light disco, band performances, traditional festive dinners and firecrackers.
Sunday July 22 is the community based activities with Arts North West Arts Trail, artisan workshops, cultural displays, History House Tours and live musical performances.