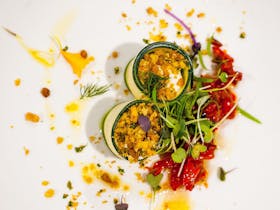 ["Community Event","Festivals and Celebrations","Food and Wine"]
Map Address
Book Today
Visit Website
Enquiry
Capricorn Food and Wine Festival
Start date: 26 Sep 2019 / End date: 27 Sep 2019
, Rockhampton 4700
Ph: 0749222646
The Capricorn Food and Wine Festival is committed to providing the premier event for Central Queensland, showcasing the best on offer from the local area and region including gourmet food, wine and local produce, whilst providing a wonderful platform to celebrate the region's burgeoning hospitality, music and tourism scene.
The core focus of the festival is to continue to engage and celebrate the local community and produce from within their region and to continue to showcase the diversity of talent and produce they have.
The Festival will again play host to signature events including Twilight Tasting, Ladies of the Vine Afternoon Soiree, The Long Lunch, and some newcomers including Pinot, Pots and Pork, and demonstrations by renowned local chefs, masterclasses and more.
Make the most of your weekend enjoying the festival and visit the gorgeous Great Keppel Island, experience breathtaking views from Mount Archer canopy walk, enjoy the beauty of the Fitzroy River and so much more including local restaurants, and the Rockhampton Botanic Gardens and Zoo.
You will need to secure your tickets early as some of the major ticketed events sell out quickly. They look forward to welcoming you to the Capricorn Food and Wine Festival this September!