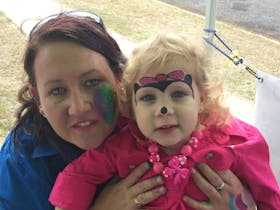 Business Event, Classes, Lessons, Workshops and Talks, Festivals and Celebrations, Event Markets
Map Address
Book Today
Visit Website
Enquiry
Jandowae Timbertown Festival
Start date: 6 Aug 2020 / End date: 6 Aug 2020
, Jandowae 4410
Ph: 0428176259 / 0429936985
The first Jandowae Timbertown Festival was held in 2001 to celebrate the important contribution the timber milling industry made to their town and way of life.
The Jandowae Timbertown Festival is run by the community and committee of volunteers, and continues to provide a dynamic fundraising event which aims to benefit all local businesses, community groups, clubs and organisations. It is an excellent opportunity to celebrate Jandowae's history as well as the town as it stands today, and promotes a real sense of community.
The festival is held over two days and three nights – and includes market stalls, rodeo and barrel racing, competitions for locals and festival visitors to take part in, fireworks, live stage entertainment suitable for all ages and various wood related and sporting events. Each time the biennial event has been held, it has grown significantly in popularity. As well as being an event that attracts visitors from the Western Downs region, the festival also attracts many visitors from afar including those that take advantage of the great camping and caravan facilities at the Jandowae Showgrounds.
Event dates for next 12 Months: 6 Aug 2020 | 6 Aug 2020