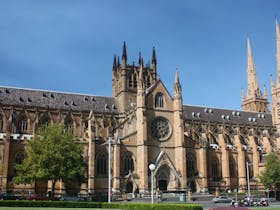 Historical Sites and Heritage Locations, Landmarks and Buildings
Map Address
Book Today
Visit Website
Enquiry
St Mary's Cathedral
2 Saint Marys Road, Sydney 2000
Ph: 0292200400
St Mary's Cathedral is the spiritual home of Sydney's Catholic community. It is the seat of the Archbishop of Sydney and stands on the site of the first Catholic Chapel in Australia.
Constructed in local sandstone, the Gothic Revival style of its architecture pays respect to the great medieval cathedrals of Europe. Architect William Wardell, a convert to Catholicism, was born in 1823, and as an architect in England had become an accomplished practitioner of the Gothic Revival style of architecture. The first stage of the cathedral, the northern section, was built between 1866 and 1900. Stage two, the southern section was completed between 1912 and 1928.
Entry to St Mary's Cathedral is free and open to the public. However, a donation towards the upkeep and cleaning of the Cathedral is greatly appreciated. St Mary's Cathedral offers free guided tours every Sunday following the 10:30am Solemn High Mass. This tour meets at the pews next to the organ console area, located inside the College Street entry doors.
It is important to remember St Mary's Cathedral is a place of worship. Please remember to treat the place with respect while you are here.