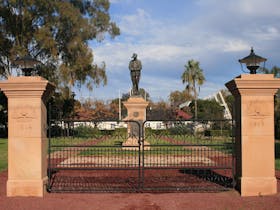 Historical Sites and Heritage Locations, Landmarks and Buildings
Map Address
Book Today
Visit Website
Enquiry
Dalby War Memorial and Gates
Patrick Street, Dalby 4405
Ph: 137468
Dalby's grand tribute to its local WWI soldiers represents a joint venture of local and international talent.
Governor Sir Matthew Nathan unveiled the Dalby War Memorial on 26 July 1922. The memorial and wrought iron gates flanked by carved sandstone pillars were designed by local monumental mason, J Shill. British sculptors John Whitehead and Sons modelled the Dalby soldier statue, based on a sergeant-major of the Grenadier Guards. The statue was cast at a London foundry.
Only two known examples of Whitehead's work exist in Queensland. Dalby's digger is one of only two bronze diggers in the state. The memorial, set in a park, honours 360 local men who served in WWI. Of them, 64 died. Bronze plates, created by Norwegian immigrant Ernest Gunderson, bear the soldiers' names.
Sandstone gate pillars bear the AIF badge and the dates 1914 and 1919. Torch shaped light are installed atop the pillars.