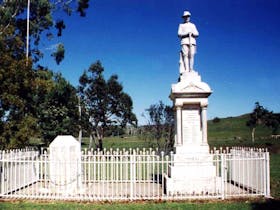 Historical Sites and Heritage Locations, Landmarks and Buildings
Map Address
Book Today
Visit Website
Enquiry
Cooyar War Memorial
McDougall Street, Cooyar 4402
Ph: 137468
In the Darling Downs township of Cooyar, two World War I memorials stand side-by-side in Hack Menkins Park, ensuring this community's loyalty to the Empire is never forgotten.
State parliamentarian Arthur Edward Moore MLA (who would become premier a few years later) unveiled the Cooyar War Memorial on 14 July, 1923.
A marble soldier statue standing on a pedestal honours the 25 local men who died in WWI. The adjacent stone plinth reminiscent of a gravestone serves as a roll call of all 110 men who enlisted; their names inscribed on a leaded marble plaque. Such displays provide valuable local history, unattainable from military records where names are categorised alphabetically or by military unit.
Public subscription and entertainment fundraising events amassed £413.10.0 for the memorial, designed and produced by Toowoomba-based RC Ziegler and Son. The soldier statue was crafted and imported from Italy.