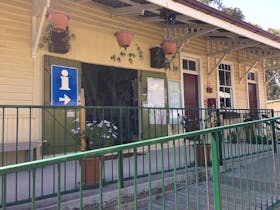 Galleries Museums and Collections, Historical Sites and Heritage Locations
Map Address
Book Today
Visit Website
Enquiry
Yarraman Heritage Centre
26 Millar Street, Yarraman 4614
Ph: 0741638111
A snapshot of life in the early 1900's is in store for visitors to Yarraman Heritage Centre.
Set on two and three quarter acres in the heart of Yarraman, the centre comprises eight historic buildings, including what was once a Sisters of Mercy Convent. This two story building is a beautiful example of its time – the internal walls are stained tongue and groove crows ash timber. Visitors will also find the Yarraman Railway Station, Arthur Brown's Butcher Shop, a typical slab hut circa-1921 , and a farmer's cottage circa-1930.
You'll also find a restaurant and bar, a cellar door offering wine tasting of local wines, a community resource centre, public access internet terminals and a Visitor Information Centre.
The ground level contains cultural museum displays; 'Wooden Wealth', the history of timber in the district; Tarong Energy display, the history of the town's first power house; the Beersheba Room, a military memorabilia display featuring a bugle used in the Light Horse Charge at Beersheba in 1917 and an Art Gallery featuring the work of a local artist each month.
Take a picnic to enjoy in the 'Australian Area,' an acre of natural scrub walk ways and free barbecue facilities.