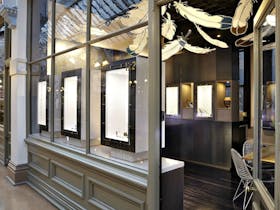 Galleries Museums and Collections, Shopping and Markets
Map Address
Book Today
Visit Website
Enquiry
Courtesy of the Artist
412-414 George Street, Sydney 2000
Ph: 0283541398
Offering Sydney it's most dynamic collection of contemporary jewellery and objects, Courtesy of the Artist continues to be at the forefront of the collectable jewellery movement since launching in 2004.
With many pieces handcrafted exclusively for the store and in limited runs, Courtesy of the Artist seeks to promote innovative and original design, celebrating the latest technologies whilst respecting the most traditional of crafts.
Located in Sydney's historic Strand Arcade, one of Australia's most majestic shopping precincts, both the store and adjoining Courtesy of the Artist Custom welcome commissions across a range of disciplines.