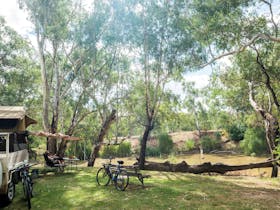 Apartments, Caravan / Camping and Holiday Parks, Cottages, Motels
Map Address
Book Today
Visit Website
Enquiry
Apex Riverside Tourist Park
Start date: 29 Nov 2021 / End date: 30 Nov 2021
88 Reymond Street, Forbes 2871
Ph: 0268511929
COVID-19 Alert: For ongoing updates on travel and Covid-19 visit the government website.
The Apex Riverside Tourist Park is a quiet, peaceful oasis nestled amongst beautiful scenery on the banks of the beautiful Lachlan River in the heart of the Lachlan Valley.
The park is spacious and relaxed and offers easy access to the Newell Highway. Featuring powered sites, camping options, comfortable motel-style accommodation and self contained Riverside Villas.
Whatever your travelling style, Apex Riverside Tourist Park is an ideal place to call home while you discover the delights of the beautiful Forbes region.
The perfect setting to relax, unwind and recharge the batteries. Do as much or as little as you like. Experience the relaxed and friendly atmosphere of Riverside Park, you won't be disappointed.